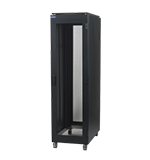 Knurr Miracel Rack
Features
Aluminium construction
Proven technology based on aluminium extrusions offer high flexibility and stability without excessive weight, which makes handling and assembly much easier
T-slot system
Free configuration of accessories. Simple installation of all non-standard built-in components-variable and also in 19″ or 25mm increments
Screw construction
Easy dismantling of the rack guarantees accessibility even in cramped rooms.
Expandable at any time
System expansions can be easily implemented while maintaining the IP protection rating (IP 20).
Flexible ventilation components
Optimum ventilation guaranteed by corresponding accessory components. In part due to perforated doors (perforation level: 83%).
Cable management
Guaranteed optimum cable routing. Cable management variable thanks to comprehensive accessory components.
Server extrusions as per IEC standard 60297
Extrusions for the rapid installation of all trade standard servers as well as network and telecommunications components.